Online sales and Click and Collect are still on!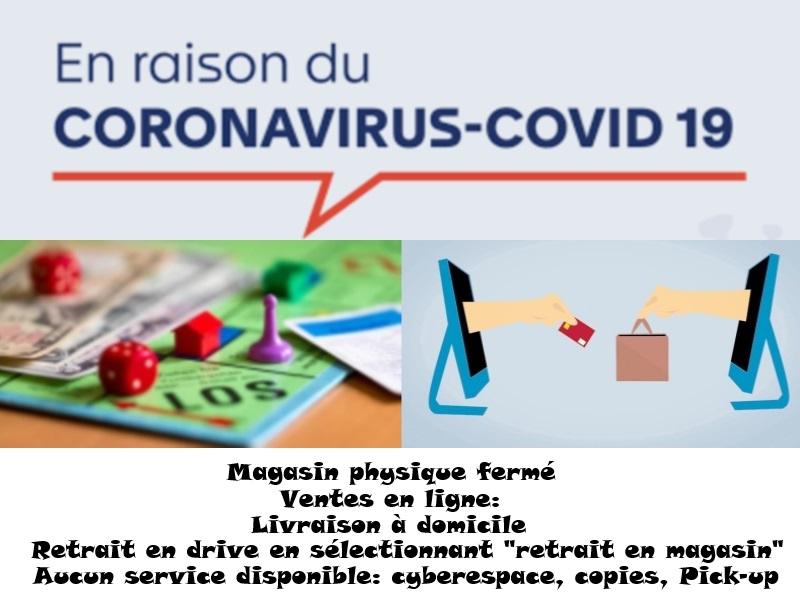 Online sales and Click and Collect are still on!
Hello everyone ! Sorry in advance for the pavement :)
Following the government announcements last night, the store will be closed from 6:30 p.m. this evening until further notice.
Online sales will still be possible on our site

https://www.jouelejeuvaison.com/en/

either in home delivery or in the form of a drive with the option "withdrawal in store" selectable during the order for local customers.
We will be available at the store at the usual opening hours of the physical store to withdraw your orders made on our site.
The store door will be locked, as we are not allowed to welcome you inside.
In-store pick-up in the form of a drive is nevertheless permitted.
Don't hesitate to knock, we're here.
If not, feel free to give us a call at 06-75-68-27-76.
As we have been doing since the start of the epidemic for current packages and online orders, the games and media that contain them will continue to do so be disinfected before being sent or delivered to you.
Other services are suspended until further notice.
In addition to entertainment, we no longer offer cyberspace services, photocopies and scans and of course Pick Up relays.
All packages that were still in our relay were transferred either to the nearest essential relay and trade point, c That is to say, Super U can be reached on 04 90 10 06 00 or at the Vaison post office on 3631.
All our games and publications on social networks and the site's blog will continue to accompany you as usual. :)
If we were to always be physically closed for Christmas periods, online sales (with home deliveries or in-store pickup), Christmas games and workshops will be maintained but online on our Facebook page and our site via the blog always.
This Christmas year will be different, but let's hope that all together we will succeed in keeping it festive and safe.
Whatever happens, we will be there for your board game research and your Christmas lists like for previous years.
For any questions, you can reach us:
- By phone at 06-75-68-27-76
- By email to jouelejeuvaison@hotmail.com
Good luck to all and above all take care of yourself and your loved ones.
Have a good day and have a good game anyway;)
online sales collect click JJV