2 words game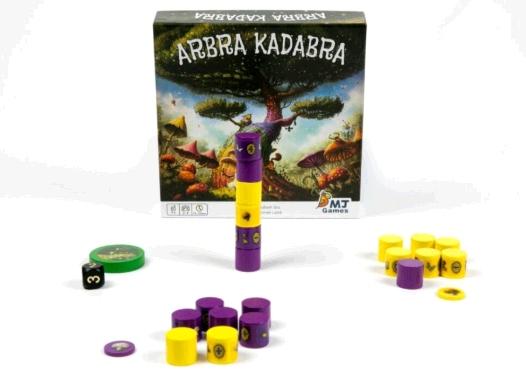 2 words game
Hello everyone !
Today we are going to talk about Arbra Kadabra.
Arbra Kadabra, a fairytale game.
In Arbra Kadabra, you find yourself in the middle of a forest like no other: you are in the Enchanted Forest.
Your mission is simple, you must return home before the fateful hour.
But be careful, before that you will have to pass the magic tree test.
Arbra Kadabra, a dice game:
To be able to return home, you will be faced with a magical multicolored tree that can grow or shrink on a dice roll.
You will therefore have to choose the right time to insert all your wooden pieces into its trunk while trying to steal the pieces of your competitors.
Arbra Kadabra, a game of skill:
In order to escape and reach your cozy little nest, be clever and skilful.
Otherwise, you will be transformed into a mushroom and spend a thousand years at the foot of this tree alongside those who have failed like you.
Be the smartest!
Arbra Kadabra, a game for the whole family:
Arbra Kadabra is a game published by Montreal publisher MJ Games, specializing in games with educational content for children and families.
Good day and good game ;)